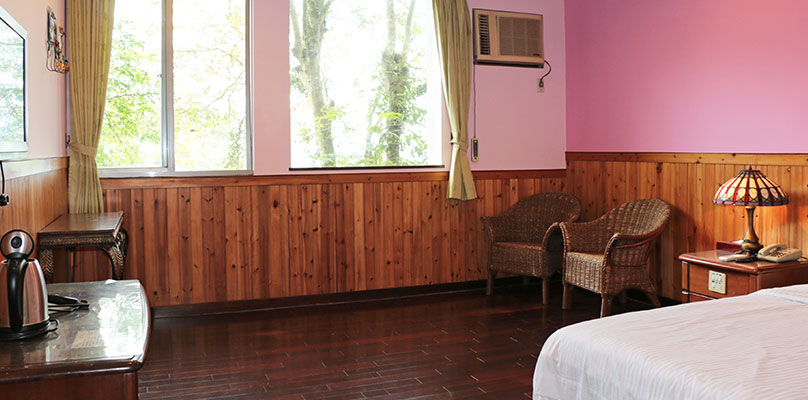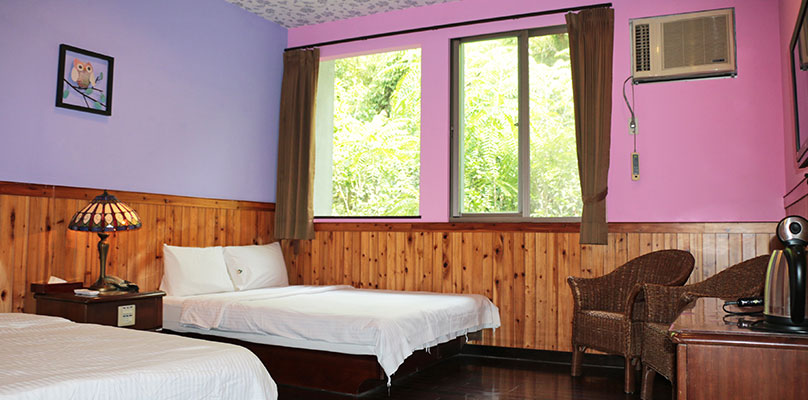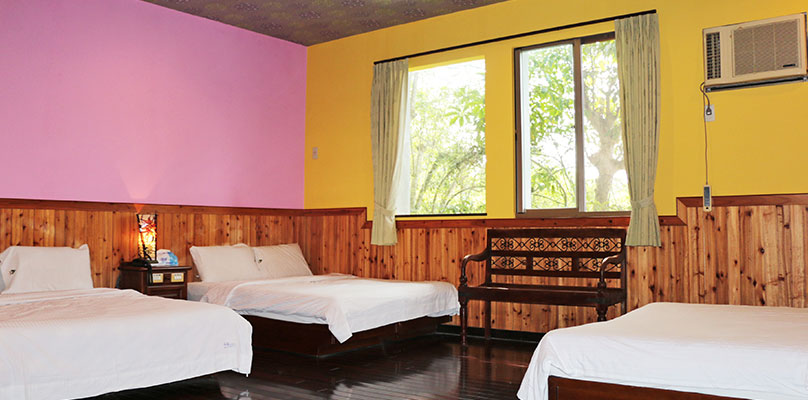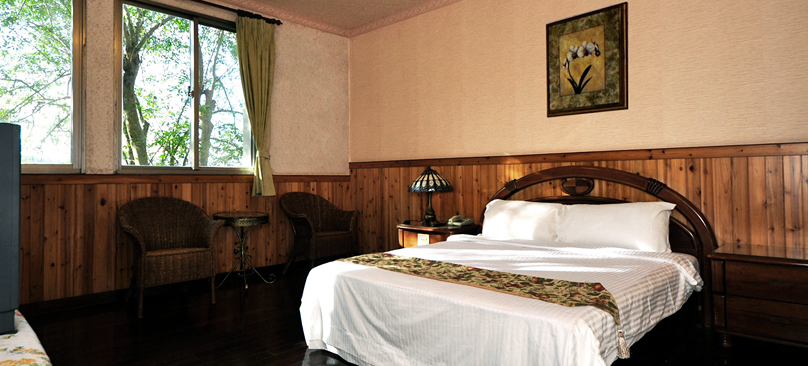 Standard Suite
| Room types | Standard Rate (Chinese New Year) | Weekend & Holiday | Weekday | Notes |
| --- | --- | --- | --- | --- |
Single room (1 bed)

2900

2200

1800

★ Includes Breakfast

★ Includes a night ecological tour

Please make sure to help clean up after any pets you bring into the area or your room. Pets are not allowed on the bed. Violators will be fined a cleaning charge based on the level of cleanliness.

★ We welcome you to take your own toiletries with you.

★ Extra bed can be provided only in 6-people room, the price is NT560/person.

★ After the confirmation of booking, please deposit 50% of the total amount to complete the reservation.
Reservation is cancelled if deposit is not received

Double room (1 bed)

2900

2400

2100

Twin room (2 double beds)

4000

3000

2600

Triple room (2 beds)

4000

3100

2700

Triple room (3 beds)

5600

4500

3900

Quadruple room (2 beds)

4000

3300

2900

5-people room (3 beds)

5200

4000

3500

6-people room (3 beds)

5200

4200

3700

6-people room(Large) (3 beds)

5600

4600

4000
Notes:
★ Weekend & Holiday: Includes Saturdays and holiday periods
★ Weekday : Includes Sundays through Fridays and the last day of holiday periods
★ Chinese Style Breakfast:Rice, Mantou and 5 accompaniments (NT$60 for each diner that exceeds the reservation number)
★ Check in time: After 3pm. (Please check in at the service centre when you arrive at the farm. After the registration is done, you can
drive to the lodging area and take your luggage to your room.)
★ Check-out:Before 11:00am
★ Vehicles (with 9 passengers or less) can park at the parking lot near the lodging area.
★ Fire is forbidden in the garden so as to preserve its sensitive ecology.
★ Grills and similar items are absolutely not allowed in the garden; cooking fires are also not allowed. Violators must pay a NT$5000
garden maintenance fee.
★ We do not provide any utensils rental.
Payment Transfer Information
[ Singapore ]
Bank: Mega International Commercial Bank,Singapore
Address: 80 Raffles Place#23-20 UOB Plaza 2Singapore 048624
Name: HSU LI CHENG
Account No.: 6313903

[ Hong Kong ]
Bank: Mega International Commercial Bank Hong Kong
Address:Suite 2201, 22F, Prudential Tower, The Gateway, Harbour City, 21 Canton Road, Tsimshatsui, Kowloon, Hong Kon
Name: Hsu Li-Cheng
Account No.: 965-10-635755
Guests from other country please confirm with us through email.
★ Please email us the scanned receipt after the deposit is remitted.:sanfufarm@gmail.com or [ Filling out the remittance advice ]